Team Canada unveiled their new-look sweaters and socks on Thursday. The gear, which will be used during the 2006 Olympics, is designed by Nike to reduce air resistance and friction, enabling the skaters to be quicker and more efficient. The design technology that was used is similar to that which is used in designing cycling jerseys.
In this photo, check out the facial expressions on the three men:
Simon Gagne
:"I
HATE
this. Will you hurry up with the pictures so I can change?"
Bob Nichols
:"Holy cow! Gagne's got a nice ass! I like the form fitting stuff."
Wayne Gretzky
:"Jeez, he really looks like a clown in that outfit."
Most of the team donned the new sweaters for one twenty minute session of a scrimmage on Thursday before Coach Gretzky cried "Hold! Enough!" Some players, however, such as Todd Bertuzzi, Chris Pronger, Rick Nash and Keith Primeau couldn't even get the damn things on. After it took four guys to unsuccessfully help Bertuzzi, he said:
"They couldn't quite get it on me over my stomach. They would look good with a pair jeans going to a bar maybe. I think they are going to have to fix them up for a few guys. We have a lot of big guys on this team."
The overall impression was that they were just too tight, to the point of being uncomfortable. Especially the socks. Although he didn't wear the sweater, Pronger wore the socks, and lamented afterwards:
"The socks were a little tight, too," Pronger said. "My feet are still a little numb, they were so tight."
Across the board, the players agreed that they would gladly forgo the sleekness and sexiness of the new unis for the comfort of the old stuff.
In my opinion, they look like something a motocross rider wears. The tightness of it all sort of takes away from the intimidation factor of it all. A bulky sweater accentuates the hugeness of a player like Pronger. On the flipside, the tightness of the new sweater makes everyone look little. Especially someone who is already little, like Martin St. Louis.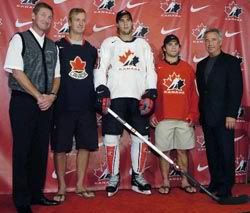 In the second photo, look how ridiculous
Martin St. Louis
looks standing next to Gagne. Of course Gagne is wearing skates, and St. Louis flip-flops, but it really makes him look tiny anyway.
This was just a test run, and judging from the results, Nike has a lot of work to do.