As
Our
NHL season hits the midway mark, I'm proud to be hosting the 17th Carnival of the NHL. The Rod Brind'Amour edition.
No carnival would be complete without midway games and prizes. Lots of prizes are to be had as Martin Thornell at
HockeyDirt
hands out the mid-season awards
, which he calls the "Neelies", in honor of Cam Neely's incredible first half in 1993-94. The Neelies were awarded based on the results of a poll in which 31 esteemed hockey bloggers participated. Reggie Jackson
was not one of them
(mp3 file -- Assist to
Off Wing Opinion
).
Alex Ovechkin easily walked away with the Calder Neely. In the "real" world, he earned the NHL rookie of the month in December, and NHL offensive player of the week for the last week in December. JP over at
Japers' Rink
demands a recount
in the awarding of the NHL offensive player of the month for December, which was given to Jaro Jagr. Be sure to check out
Japers' Rink
, as he hands out awards on a
daily
basis.
Yes, Step right this way and see the Russian Phenom for yourself. Don't speak Russian? Don't read Cyrillic? No problem. Dave Zukauskas over at
Sidearm Delivery
does. As he's been doing all season, he provides us with the
English translation of an interview with Ovechkin
in which he says of that other rookie and his sudden rise to alternate captain:
"I consider, at that age, to give someone that position -- it's ridiculous. Honestly, when Crosby was named alternate, I laughed."
Ovechkin wasn't the only Russian to pick on El Sid this month. While Crosby was having an especially bad game on Friday night, Ilya Kovalchuk had his way with the youngster. Kovalchuk scored twice, then pointed his finger at Crosby, who was in the penalty box by himself, feeling shame. Later, Kovalchuk threatened to taunt Crosby a second time. Jes Gõlbez thinks that
Crosby has finally snapped from all the pressure
of being the top rookie. He and Michael Fedor of
Confessions of a Hockey Fanatic
are both
pleasantly surprised that Don Cherry has spoken in defense of Crosby
. For the record, Cherry is also in favor of breaking Kovalchuk's arm, and
against
the wearing of visors.
From the land of ABBA and IKEA, "Ingmar Bergman" of
Ingmar Bergman Shoots and Scores
distributes
"Swedes only" mid-season hardware
. This is sure to infuriate Gölbez. Bergman also has a superior quality video clip of Rob Hisey
scoring a lacrosse-style goal
in a Finnish Elite League game. You've seen the one he scored in a skills competition, but this one was for real. Check out the cool zebra shirts the refs wear in that league. Also check out the
"exclusive interview"
with Jaromir Jagr.
Christy Hammond, who skillfully blogs the
Red Wings
at
Behind the Jersey
has her own awards of sorts. She's got a 2005 year-end retrospective on the Wings, complete with
Top 3" lists
in 13 different categories. Not surprisingly, the Jiri Fischer collapse was the #1 scary moment.
Iwocpo over at
Abel to Yzerman
, who has an astonishing amount of free time, also posts his Wing-specific
mid season awards
. Although new to the hockey blogging fray, he's extremely prolific without being a gluttonous nuisance.
Speaking of gluttony, my boys Eric Staal and Mike Commodore of the
Carolina Hurricanes
had a good time
(WMV file) at the North Carolina State Fair back in October, winning some prizes and stuffing their faces with cotton candy, candy apples, corn on the cob, and who knows what else.
As long as we're eating, CasonBlog
takes a shot at Tim Horton's
for their lunch combo of Southwest Chicken Sandwich, coffee and a donut. You say
donut
, I say
doughnut
.
Down the midway a bit, Jes Gölbez'
Hockey Rants
has set up a
hot dog with cheese stand
. Andrew Hutchinson of the Carolina Hurricanes is expected to be there signing autographs. Reservations required.
Over at
Sabre Rattling
Tom Luongo was baffled by
Jochen Hecht's slow start
for the
Sabres
, but pleasantly surprised by the outstanding play of Tim Connolly and Brian Campbell thus far.
Tom took himself to task for rattling his sabres at Hecht, and would later change his stance by picking Hecht as his midterm Sabre Selke. The Luongo Sabre Hart goes to the Rochester Americans of the AHL. Makes sense for a young team. Click on the link to see the other
Luongo Sabre midseason awards
. And who other than Michigan State alumni would have expected Ryan Miller to steal Martin Biron's job?
With Biron basically out on the street, J.J. Guerrero of
Canucks Hockey Blog
speculates that the
Canucks
will be making a major move to replace injured netminder Dan Cloutier, who is out for the season. He hints at getting Biron, but strongly suggests
trading someone for Jose Theodore
. That would suit his fiancé just fine.
I wonder if fans in Vancouver would crash a 'Nucks practice....
J.J. offers some mind rattling math on how Theodore's contract would fit under the cap. He also plays school marm, handing out
midterm report cards
. The second line of the Sedins and Anson Carter move to the front of the class, getting an A. Yes, Anson Carter. He's found "it" in Vancouver, and has had a terrific comeback season thus far. The 'Nucks defence brings up the rear, and J.J.
begs for some added depth to the blue line
.
James Mirtle, who's like that dude in
"Summer School"
who had the hall pass for like five weeks, showed up way late for the carnival, but was granted a late pass. He's
handed the NHL a midterm report card
that the parents might not be so happy about. It's good enough to pass, good enough to graduate, even. However, if the NHL expects to get into graduate school, it had better do better than a 2.5. Although the NHL didn't fail any class, they did not excel in any class either. Mr. Mirtle thinks that the League needs improvement in Social Studies and Art. Honestly, it needs improvement across the board, but especially in these classes.
Mirtle also plays barker in the
"guess your height, weight or age" game.
. Step up and see if you can fool the great Mirtle.
Daniel Clark of
A Foote in Sydor
also
goes about the awards ceremony in his own way
, by giving one in each conference. He goes way out on a limb to give his midseason Eastern Conference Vezina to ..... Henrik Lundqvist. His three candidates for Free Agent Bust in the Eastern conference are Sergei Gonchar, Sergei Gonchar and Sergei Gonchar. You'll have to stick your foot in the door to find out who took the prize.
Over in the desert, CasonBlog has a most unusual award ceremony, which he calls
The Mid-Year Bizarro World NHL Awards
. These awards, named in honor of "the anti-Superman creation of Lex Luthor", are given to the
worst
player in each category. Sean Avery takes home the MYBW Lady Byng, and CasonBlog quips:
"Nobody likes him. His mother screens his calls and Elisha Cuthbert is probably only dating him to piss off her parents."
From over the treetops, the squeals of delight can be heard from many carnival attendees, but under the big tent, thunderous boos can be heard. Let's step inside and find out what's going on....
Iwocpo chimes in again with his analysis on the
booing of Dany Heatley
upon his return to Atlanta. He and many others are baffled by the treatment of a player who desperately had to get out of Atlanta because of the personal demons stemming from his accident. The fans supported him with open arms until he needed to get away from the constant reminders. Now he gets booed like the contestant on The Price is Right who fails to make the big wheel do a full rotation.
The Acid Queen, of
Sweet Tea, Barbecue and Body Checks
penned an
open letter to fans in Vancouver
who attended the IIHF World Junior Championships. At every moment of the tournament, the fans relentlessly booed the Americans any chance they got.
They say it was because of the softwood lumber dispute, or George Bush, or perhaps some lingering hostilities from the war of 1812. Maybe Phil Kessel said that he hates the Barenaked Ladies. None of this has anything to do with hockey. AQ,
James Mirtle
and
Tom Benjamin
are all in accord that it was a bit much. There's some great dialog going on in the comments section of
Acid Queen's
and
Tom Benjamin's
places.
Meanwhile, in the IIHF Under 20 (Division III) tournament, Japers' Rink told the tale of Armenian netminder Harutyun Baluyan, who made an astonishing
83 saves
versus Iceland in round-robin play. Only problem is, he allowed
50 goals
in a 50-0 loss. The rest of the tournament was only marginally better, as they went 0-4, getting outscored 146-6. Read Japers'
gruesome account
of the Armenians' woes.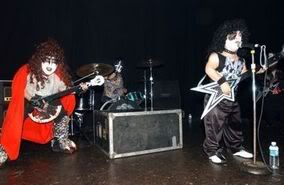 All this booing and crying is making me tired, but we have to stay up because there's midnight hockey! And a KISS cover band! That's right. Some carnivals have pig racing or school bus demolition derby. We've got Midget Peter Criss and a midnight puck drop. The Carnival (but not the NHL) heads back up to Hartford, where Dave Zukauskas tells us a bizarre tale of
midnight hockey and Midget KISS
in Vegas. He points us to a newspaper article giving a minute by minute account of the evening. Only in Vegas!
Meanwhile, down in the basement, there's a dueling piano bar. Okay, so they're not really pianos. It's just the boys from
Battle of Alberta
. On one side is Matt Fenwick, who covers the Flames and says in his
mid-season state of the team address
:
"Times are good in the C of Red, and there's no good reason to believe that they won't keep rolling."
Opposite him is Sacamano, who roots for the Oilers. He doesn't give out grades or use fancy stats, but he does a very thorough
player-by-player analysis
of the Oilers.
And that will just about do it for the 17th Carnival. Thanks for stopping by. I hope you had fun. Thanks again to Eric McErlain for organizing the Carnival.